Svchost.exe Keeps Popping Up On Norton Internet Security
read this article if you have a computer installed with norton internet security and you keep getting a pop up message that says svchost.exe [8922], Last Updated: Sun Jun 14, 2020
---
justme
Tue Mar 10, 2015
1 Comments
99 Visits
---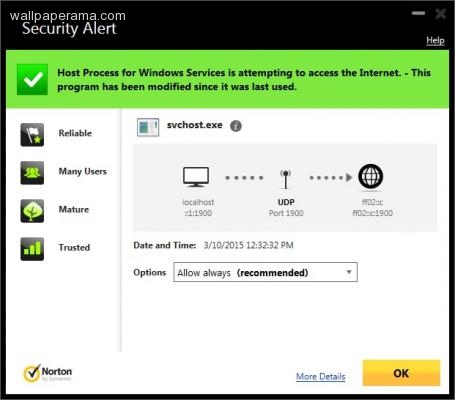 i have had NIS (norton internet security) installed on my computer for years. last year this annoying thing started to happen.

whenever i would get windows 7 updates, i would have to re-instate my norton rules for the file svchost.exe

at first i did not pay much attention because it would go away quickly.

until now. recently i updated my windows and my firefox and now i keep getting this pop up message that says:

Security Alert
Host Process for Windows Services is attempting to access the Internet. - This program has been modified since it was last used.

localhost: 1:1900 UPD port 1900 ff02::c ff02::1900

then i select Allow always (recommended) and click ok,

but it keeps coming back, can someone please help me resolve this error.

thanks.

---