Fix The Format Did Not Complete Successfully Error Windows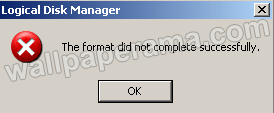 i tried to reformat my drive but don't know why i get this..
The format did not complete successfully
do you know what else i can do to reformat my drive?
destiny
Sun Dec 18, 2011
let me see it
Nidiot
Wed Nov 09, 2011
Hey i have also this problem. All please help me, thanks a lot.
Mike
Tue Feb 08, 2011
FIXED - Delete the partition then try format wizard worked for me
SALMAN
Thu Oct 04, 2012
BUT HOW I DELETE PARTITIONS ..PLZ HELP
Swapneel
Wed Dec 01, 2010
i think...
there should some problem wid hard disc. u need repair or relace to the Hard Disk. otherwise u can partition n use it.
Beyene
Mon Nov 08, 2010
No solution yet
give detail remeady solution ideas about the problems and ask later the comments and if did good idea it will work instantly
punith
Thu Aug 26, 2010
if somebody talented persons having computer mind known about this problem...format did not completed succesfully....solve this it's challenge....
Thomas
Tue Jul 27, 2010
Found a solution to my version of this problem.

Delete and recreate the partition, then format.

Seems something has tweaked the partition information ....

Best of luck to you all
Dheeraj
Wed Mar 10, 2010
Whwn i format my local disk (F) with right click is not successfully completed, when i format my local disk(F) by command promt is also not successfully compleeted and when i format my local disc(F)by disk management is not completed and when i delete my local disk by disk management and create new partition is also format not completed in all case in last time my system is hanged. so any one solve this problem please help me.
mandeep
Mon Mar 01, 2010
i try to format my flashdrive in disk management and its appear formatting but in the popup error says the format did not complete succesfully.... pls help.. tanks
Uday
Wed Jan 06, 2010
sir,
i try to format my flash memmory drive but
one error message coming .
error: logical disk manager
the format dinot complete succesfplly.
pls give solution .
thnks
uday

ram
Sun Dec 06, 2009
i try to format my flashdrive in disk management and its appear formatting but in the popup error says the format did not complete succesfully.... pls help.. tanks
Caio
Mon Nov 30, 2009
here is the solution support.microsoft /kb/829305
abhay
Sun Nov 08, 2009
my pendrive was not format,the format did not complete successfully
Rakesh
Wed Oct 14, 2009
my 4 gb pendrive showing this message 'format didnot complite successfully'
Related Content
Information
Title: Fix The Format Did Not Complete Successfully Error Windows
Description: Fix The Format Did Not Complete Successfully Error Windows
Tags: fix ,the ,format ,did ,not ,complete ,successfully ,error ,windows
Info: This Post Has Been Viewed 0 Times Since
Date: Sat Jul 14, 2007
Author
pacoman
Received 26 Replies #572
Share
Embed:
To embed this topic, just copy the code from the "Embed" box. Once you've copied the code, just paste it into your website or blog to embed it
BBCODE::
BBCODE is use on forums. You can put this code on all your BBCODE enabled forums like PhpBB, vBulletin® and others. Just Copy and Paste this code on your Posts and Replies on your forums