Fix The Format Did Not Complete Successfully Error Windows
this topic will show you who to fix an error you might get in your Microsoft windows PC computer that says Fix The Format Did Not Complete Successfully. this is a pop up alert message that you get when you try to format your hard drive in your computer. [572], Last Updated: Tue Feb 07, 2023
---
pacoman
Sat Jul 14, 2007
28 Comments
22497 Visits
---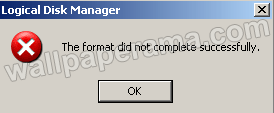 Error: The format did not complete successfully
Thank you for answering my last question. I helped me so much. Saved me a week worth of work. I have another followup question.

I tried to reformat my hard drive in my server for many of my websites, but I don't know why I keep getting this error when I click on the format button in my windows interface.

Logical Disk Manager
The format did not complete successfully

Do you know what else i can do to reformat my drive?

[Answered] See respond in comments section below.
---