this is a post about a popup alert message getting in a windows computer that many people get and will try to explain what it means [618]
---
wallpaperama
Tue Dec 02, 2008
1 Comments
621 Visits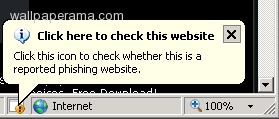 i just upgraded to internet explorer 7 and the first thing that come, its an annoying popup
it says:
click here to check this website
Click this icon to check whether this is a reported phising website.
i just have all these popups from vista. just too much man.
i dont think these guys are microsoft dont get it. all these popups are distracting. the user gets a better expirience when everthing flows smoothly without interuptions.
so how do you get rid of this annoying popups in interent explorer? i want to know how to stop it from poping up again. its very anoying