Pittsburg Steelers Wallpapers Superbowl Pitsburg Stilers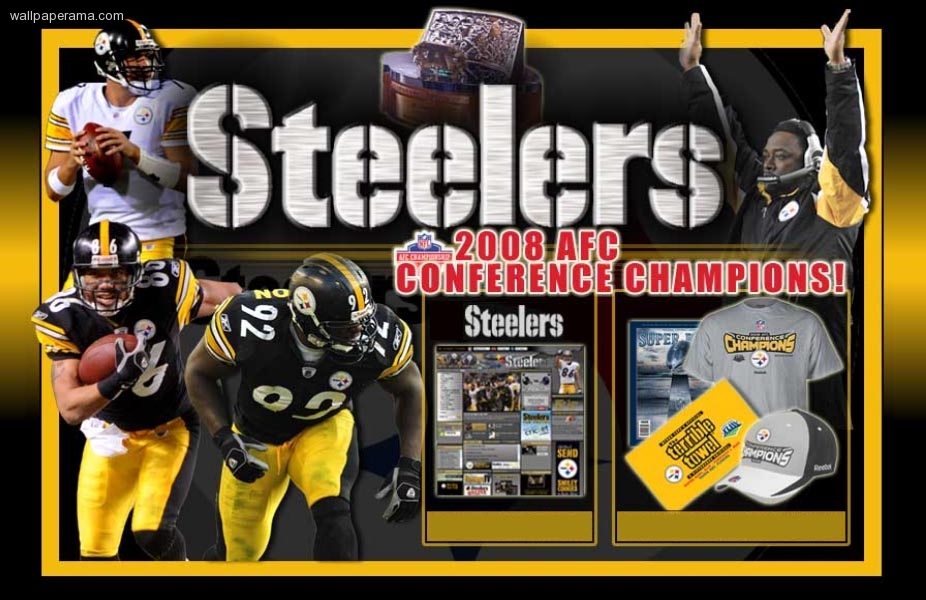 Will The Pittsburg Steelers Win?
i wanted to have a wallpaper picture of the superbowl 49 nfc nfl champtions the philadelphia pittsburg steeler.. who is the best player in the pitsburg esteelers? i dont know crap about football as you can see but i am a fan. can someone tell me why they think the steelers should win the superbowl?
shashank
Mon Dec 21, 2009
i will love to have a steelers fan pack. we r going to win this year superbowl.
mike
Tue Jan 27, 2009
ah, that pretty good, i know they will win you see superbowl: pat summerall just checked into the westin. he's hosting a charity dinner at the hotel thursday night. #superbowl published 48 minutes ago
superbowl: nfl /live will be at the total access set on radio row tomorrow. guests set to appear include joe montana, phil simms and matt ryan. published 2 hours ago
superbowl: nfl total access from the super bowl starts in five minutes. john madden and al michaels live on set. published 2 hours ago
superbowl: nfl network staffer got to see springsteen's halftime rehearsal and was almost reduced to tears. but we couldn't get her to reveal the set. published 3 hours ago
superbowl: lt said on nfl network he respects aj smith but says they didn't discuss his future ... said he won't have to have groin surgery. #superbowl published 3 hours ago
follow us from the super bowl | what is twitter?

cardinals' rare moment of triumph
steelers to wear road white uniforms
cardinals' warner back in familiar spot
league names nfl play 60 super kid
faith hill in super bowl pregame


who has the edge?
who has the edge?

vic carucci and steve wyche provide a position-by-position breakdown for super bowl xliii. find out which team has the edge.
pick the playlist
pick the playlist

pick the playlist you think bruce springsteen and the e street band should play during the bridgestone super bowl xliii halftime show.


joseph
Tue Jan 27, 2009
here is my roster of the players i use for my fantasy football stats, hope this helps
 	
Team Roster
(Click on a column header to sort by that category)
No 	Name 	Pos 	Hgt 	Wt 	Birthday 	Exp 	College
55 	Bailey, Patrick 	LOLB 	6-4 	235 	11/19/85 	R 	Duke
17 	Berger, Mitch 	P 	6-4 	228 	6/24/72 	13 	Colorado
31 	Bryant, Fernando 	RCB 	5-10 	175 	3/26/77 	10 	Alabama
69 	Capizzi, Jason 	LT 	6-9 	315 	6/19/85 	2 	Indiana (Pa.)
23 	Carter, Tyrone 	SS 	5-9 	195 	3/31/76 	9 	Minnesota
25 	Clark, Ryan 	FS 	5-11 	205 	10/12/79 	7 	Louisiana State
74 	Colon, Willie 	RT 	6-3 	315 	4/9/83 	3 	Hofstra
53 	Davis, Bruce 	LOLB 	6-2 	252 	9/2/85 	R 	UCLA
38 	Davis, Carey 	FB 	5-10 	225 	3/27/81 	2 	Illinois
02 	Dixon, Dennis 	QB 	6-3 	206 	1/11/85 	R 	Oregon
93 	Eason, Nick 	RDE 	6-3 	305 	5/29/80 	6 	Clemson
79 	Essex, Trai 	RG 	6-4 	324 	12/5/82 	4 	Northwestern
51 	Farrior, James 	LILB 	6-2 	243 	1/6/75 	12 	Virginia
50 	Foote, Larry 	RILB 	6-1 	239 	6/12/80 	7 	Michigan
57 	Fox, Keyaron 	LILB 	6-3 	235 	1/23/82 	5 	Georgia Tech
54 	Frazier, Andre 	ROLB 	6-5 	255 	6/29/82 	4 	Cincinnati
22 	Gay, William 	LCB 	5-10 	190 	1/1/85 	2 	Louisville
98 	Hampton, Casey 	NT 	6-1 	325 	9/3/77 	8 	Texas
92 	Harrison, James 	ROLB 	6-0 	242 	5/4/78 	5 	Kent State
62 	Hartwig, Justin 	C 	6-4 	312 	11/21/78 	7 	Kansas
66 	Hills, Tony 	LT 	6-6 	305 	11/4/84 	R 	Texas
76 	Hoke, Chris 	NT 	6-2 	305 	4/6/76 	8 	Brigham Young
10 	Holmes, Santonio 	WR_ 	5-11 	189 	3/3/84 	3 	Ohio State
99 	Keisel, Brett 	RDE 	6-5 	285 	9/19/78 	7 	Brigham Young
68 	Kemoeatu, Chris 	LG 	6-3 	344 	1/4/83 	4 	Utah
90 	Kirschke, Travis 	LDE 	6-3 	298 	9/6/74 	12 	UCLA
04 	Leftwich, Byron 	QB 	6-5 	250 	1/14/80 	6 	Marshall
37 	Madison, Anthony 	LCB 	5-9 	180 	10/8/81 	3 	Alabama
20 	McFadden, Bryant 	RCB 	6-0 	190 	11/21/81 	4 	Florida State
49 	McHugh, Sean 	TE 	6-5 	265 	5/27/82 	3 	Penn State
83 	Miller, Heath 	TE 	6-5 	256 	10/22/82 	4 	Virginia
21 	Moore, Mewelde 	RB 	5-11 	209 	7/24/82 	5 	Tulane
39 	Parker, Willie 	RB 	5-10 	209 	11/11/80 	5 	North Carolina
65 	Parquet, Jeremy 	LG 	6-6 	321 	4/11/82 	3 	Southern Mississippi
71 	Paxson, Scott 	NT 	6-4 	292 	2/3/83 	1 	Penn State
43 	Polamalu, Troy 	SS 	5-10 	207 	4/19/81 	6 	Southern California
03 	Reed, Jeff 	PK 	5-11 	225 	4/9/79 	7 	North Carolina
61 	Retkofsky, Jared 	LS 	6-5 	260 	3/16/83 	1 	TCU
07 	Roethlisberger, Ben 	QB 	6-5 	241 	3/2/82 	5 	Miami (Ohio)
96 	Roye, Orpheus 	LDE 	6-4 	330 	1/21/73 	13 	Florida State
33 	Russell, Gary 	RB 	5-11 	215 	9/8/86 	2 	Minnesota
91 	Smith, Aaron 	LDE 	6-5 	298 	4/9/76 	10 	Northern Colorado
27 	Smith, Anthony 	FS 	5-11 	192 	9/20/83 	3 	Syracuse
89 	Spaeth, Matt 	TE 	6-7 	270 	11/24/84 	2 	Minnesota
72 	Stapleton, Darnell 	RG 	6-3 	285 	9/21/85 	2 	Rutgers
78 	Starks, Max 	LT 	6-8 	337 	1/10/82 	5 	Florida
14 	Sweed, Limas 	WR_ 	6-4 	212 	12/25/84 	R 	Texas
24 	Taylor, Ike 	LCB 	6-2 	191 	5/5/80 	6 	La.-Lafayette
94 	Timmons, Lawrence 	RILB 	6-1 	234 	5/14/86 	2 	Florida State
26 	Townsend, Deshea 	RCB 	5-10 	190 	9/8/75 	11 	Alabama
86 	Ward, Hines 	WR 	6-0 	205 	3/8/76 	11 	Georgia
85 	Washington, Nate 	WR 	6-1 	185 	8/28/83 	4 	Tiffin
56 	Woodley, LaMarr 	LOLB 	6-2 	265 	11/3/84 	2 	Michigan
Reserve/Injured
16 	Batch, Charlie 	QB 	6-2 	216 	12/5/74 	11 	Eastern Michigan
67 	Clement, Kyle 	DL 	6-3 	315 	4/10/85 	R 	Northwood
88 	Dekker, Jonathan 	TE 	6-5 	250 	5/15/83 	2 	Princeton
97 	Harrison, Arnold 	LOLB 	6-3 	241 	9/20/82 	3 	Georgia
55 	Humpal, Mike 	LB 	6-3 	244 	2/17/85 	R 	Iowa
34 	Mendenhall, Rashard 	RB 	5-10 	224 	6/19/87 	R 	Illinois
09 	Sepulveda, Daniel 	P 	6-3 	230 	1/12/84 	2 	Baylor
73 	Simmons, Kendall 	RG 	6-3 	315 	3/11/79 	7 	Auburn
77 	Smith, Marvel 	LT 	6-5 	321 	8/6/78 	9 	Arizona State
60 	Warren, Greg 	LS 	6-3 	252 	10/18/81 	4 	North Carolina
Practice Squad
13 	Allen, Marvin 	WR 	5-10 	185 	3/5/83 	1 	St. Joseph
81 	Baker, Dallas 	WR_ 	6-3 	206 	11/10/82 	1 	Florida
64 	Legursky, Doug 	C 	6-1 	323 	6/9/86 	R 	Marshall
30 	Lewis, Roy 	RCB 	5-10 	190 	5/19/85 	R 	Washington
29 	Mundy, Ryan 	S 	6-1 	205 	2/11/85 	R 	West Virginia
15 	Nance, Martin 	WR 	6-3 	213 	5/26/83 	1 	Miami (Ohio)
84 	Sherrod, Dezmond 	TE 	6-2 	250 	5/11/85 	R 	Mississippi State
28 	Vincent, Justin 	RB 	5-10 	219 	1/25/83 	1 	Louisiana State
95 	Woods, Donovan 	ROLB 	6-2 	230 	7/27/85 	R 	Oklahoma State


Related Content
Information
Title: Pittsburg Steelers Wallpapers Superbowl Pitsburg Stilers
Description: Pittsburg Steelers Wallpapers Superbowl Pitsburg Stilers
Tags: pittsburg ,steelers ,wallpapers ,superbowl ,pitsburg ,stilers
Info: This Post Has Been Viewed 0 Times Since
Date: Tue Jan 27, 2009
Author
henry
Received 3 Replies #1923
Share
Embed:
To embed this topic, just copy the code from the "Embed" box. Once you've copied the code, just paste it into your website or blog to embed it
BBCODE::
BBCODE is use on forums. You can put this code on all your BBCODE enabled forums like PhpBB, vBulletin® and others. Just Copy and Paste this code on your Posts and Replies on your forums