Picture Of Miley Cyrus Hannah Montana When She Was A Little Girl
i can't believe miley is growing so fast

i remember the first spisodes of hannah montana on the disney channel, she was so cute.

but now, she's a teenager and is growing fast, i only see pictures of her when she is grown up

i want to see miley when she was still a kiddo. i admire her talent and her dad too.


cach
Sat Oct 01, 2011
i love you
tyshana
Fri Sep 16, 2011
miley it was hard to see u go but a gurl cant be little forever.I cryed the first time i thought u were leavin then my mom bought me the movie hannah montana forever. I was happy by the way i loved the movie u are awesome and beleive in ur self u are someday. I would do anything just to be famous for even a min ur lucky to be u.
amrit
Sun Feb 27, 2011
hannah montana i just listen to your name and go crazy. you just look fabulous in the picture I
LLLLLLLLOOOOOOOOOOVVVVV MUWA
JOCELYN
Sat Dec 11, 2010
Hi MILEY YOU WERE SO CUTE WHEN YOU WERE A KID. I LOVE your voice!I wish i was you!!!!!!!!!!!!!!!!
Jacquline
Fri Dec 03, 2010
Hanna you are cool on your show.I'm your biggest fan.Hope you email me back.Your biggest fan Jacquline.
favour
Fri Nov 12, 2010
i want to see your pictur and i want to said i love you and your family and i came from u.k and thank you.

Girish
Tue Nov 09, 2010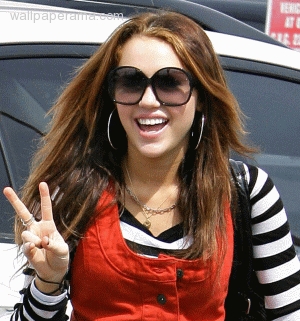 I LOVE YOU !!!!!!!!!!!!!!

i really like miley cyrus shes a good singer so pretty I am 15 Years old And When You Started Singing I Like You
hi im a # 1 fan of you i would do eney thing to meet you somtimes i m freaky cool ant it and before you did i awayas said ya think that was my first word please say on disney h sarh is mean thank you and bye oh and i would risk my life for you just like your papa oh and stop taking in aprpreent pichtures iv saw all of them so now hey miley i like u when u were littlle and i like u now still r pretty but i hate wut u did with ur hair but i think ur pretty in anyway but stop posing ur horible stop stop!!!!!!! ok bi dear hannah i used 2 like u but after you took all those bad photos But i Stil Like you any way i still like youre music but stop taking bad pictures you look horrible tell every one there k ttyl. tell everyone on the set that Girish Lakhhara From India said hi!!!!!

bye!!!!!!!!!!!
sash
Fri Oct 29, 2010
i remembred when miley was a little girl:( but i just se her as a tennager wow time flys next thing you know she'll be an adult:(
reem
Thu Oct 21, 2010
i just want miley cyrus whene she was a little girl
chrislin
Fri Oct 15, 2010
totallyyyyyyyyyyyyyyyyyyy i hate her exatly ashley she is a nonsence i hate her voice........:-C
jeem
Tue Sep 21, 2010
miley was so cute when she was a little girl ang sweet but when she became big she started to become more sweet.
beckythomas
Wed Sep 15, 2010
hi miley your coooooooooollllllll

fr becky and leanne thomas
alyssa
Sun Aug 08, 2010
i love miley but now she growing up to fast

Related Content
Information
Title: Picture Of Miley Cyrus Hannah Montana When She Was A Little Girl
Description: Picture Of Miley Cyrus Hannah Montana When She Was A Little Girl
Tags: picture ,of ,miley ,cyrus ,hannah ,montana ,when ,she ,was ,a ,little ,girl
Info: This Post Has Been Viewed 0 Times Since
Date: Wed Apr 02, 2008
Author
julie stantons
Received 48 Replies #8594
Share
Embed:
To embed this topic, just copy the code from the "Embed" box. Once you've copied the code, just paste it into your website or blog to embed it
BBCODE::
BBCODE is use on forums. You can put this code on all your BBCODE enabled forums like PhpBB, vBulletin® and others. Just Copy and Paste this code on your Posts and Replies on your forums