Nissan Pathfinder Wobbles Problem Rocks Side To Side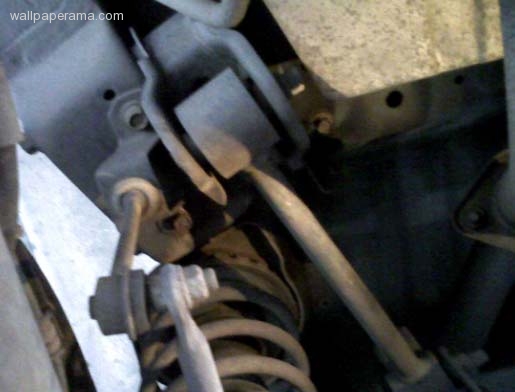 i have a 1998 nissan pathfinder SUV truck that i bought about 5 years ago. its very dependable, but lately my wife has been getting on my case because i need to fix the car.
the problem is that it wobbles back and forth when you are driving on the highway/freeway. so i replaced the front and rear shocks. while it did help, it did not fix the problem. everytime while driving downhill or when it hits a bump and rocks from left to right, its very scary and dangerous when it rocks side to side like that.
so today i went under the rear car and check the rear suspension to see what i could find.. and i think i may have found the problem. so i crawl under the truck and there it was, the upper and lower control arm bushings seem to be broken. check out these pictures i took with my cell phone:
so i went to the local auto parts store and they did not carry the bushings for this car. they said i have to go to the dealer for that.. which sucks, cuz them punks are going to charge alot.
ok, later in the day i went to the local nissan dealer and i asked for the lower and uppper control arms bushings, and before i can finish my sentence, i noticed that look on his face. then he replied, yes i know what you are talking about, you have a problem with your pathfinder excessive play right, there is a service bulleting. he showed me that bulletin and it says:
---
SERVICE BULLETIN
Classification: RA97-002
Reference: NTB98-001
Date: April 1, 1998
PATHFINDER VEHICLE PULL AND FRONT/REAR SUSPENSION EXCESSIVE PLAY
Applied Vehicle: 1996-98 Pathfinder (R50)
Applied VIN: Vehicles built before JN8AR05Y*WW256932
SERVICE INFORMATION
If a 1996-98 Pathfinder exhibits the following conditions, the cause may be from worn bushing(s) in the rear suspension upper and/or lower links.
* Excessive play in the rear axle especially during moderate acceleration or deceleration.
* Vehicle pulling at a constant speed
* Excessive sway and rocking motion in the front suspension when coming to a stop.
To correct these conditions, use the service procedure on page 2.
---
SERVICE PROCEDURE
1. Test drive the vehicle under the conditions described by the customer to verify the incident.
2. Inspect the upper and lower rear suspension links (indicated by the arrows in Figure 1 ) for damaged or worn bushings as follows:
A. Remove a suspension link from the vehicle.
B. Use a screwdriver to move the inner metal portion of the bushing in all directions while inspecting the rubber portion of the bushing for damage or wear (see Figure 2).
3. Replace the links that have damaged or worn bushings.
4. Tighten the link retaining bolts/nuts to specification.
IMPORTANT: Before tightening the link retaining bolts/nuts, the rear axle !lli!§! be
positioned in its normal ride height. Use one of the two procedures listed below to correctly position the axle before tightening the link retaining bolts/nuts:
.Place the vehicle on the ground.
.With the vehicle on the lift) support the rear axle with jack stands and slowly lower the vehicle lift until the rear lift arm pads just separate from the vehicle. Stop lowering the lift as soon as the gap between the lift arm pads and the vehicle is 1/2 inch.
5. Test drive the vehicle again to ensure the incident is resolved.
here is how to fix it
http://www.wallpaperama.com/forums/nissan-pathfinder-how-to-replace-suspension-links-t6856.html
Bill
Sun Mar 18, 2012
I have been suffering from this issue for more than a year and its progessively worse. I bought the Dorman arms from AutoZone, had to prepay as they were special order (lower arms only) and cost $89 each. Thanks for the Dorman tip. Install: I tried to remove the first lower arm after work one day and i can tell you the bolt on the lower arm closest to the axle is impossible to get off even with my impact wrench. I had to put the car back together and attempt it on a weekend as i need to get my SawsAll back so i can cut off that bolt. I also bought new bolt and nuts, the Bolts are $2.15 each and the nuts are $1 each. Part# 54368-0w02a for Bolts, and 08918-6441A for nuts. You will need at least 2 for lower arms. i know this will fix my issue as when i took one bolt off, the bushing was so worn i could push it out with my thumb which when new had to be pressed in by machine. There is a great write up on how to do this online with pics. Cant wait to fix the sway of death. Good luck!
naomi
Fri Jan 18, 2013
i agree with u i would be mad if someone gave out my number to and by the way im turning 14 Jan 21
Jon
Sun Jan 20, 2013
I think we should take thwe Bible literally almost all of the time.
advicegirl10
Sat Jan 26, 2013
well you love him so much why not tell him if he breakes your heart then time for revenge
Deanna
Mon Feb 11, 2013
I'm sure many girls have told him that they LOVE him. Obsesive much, what is the point in telling someone you love them if you know you can't be together or that many other girls like him.
dft7u
Mon Feb 11, 2013
everyone can tell what the missing digits are Three Two One or Three For Zero Five
Quincy
Tue Feb 26, 2013
Nice I like your pic and that cat.
apphia
Sun Mar 10, 2013
her eyes and lips are th big

Alexis
Sun Mar 10, 2013
Please i love her!! Give me her reall number!!
Mesha
Sat Jun 23, 2012
I love zendaya she is so cool to me I just want to see her because she is so nice and zendaya can I plz have your phone number😭😭😭😭😭😭😭
amy
Sun Mar 31, 2013
Zendeya I just want your number because you are nice sweet kind delicate person and I love you my last names coleman to Amy coleman



Tyree
Wed Apr 03, 2013
everyone is beautiful
anna
Sun Apr 07, 2013
darling do not worry if he does not like you it is his los i have not seen u but I now u r beautiful
Mmmm
Sun May 05, 2013
Very helpful!
myra
Tue May 14, 2013
cos simple comment only and me too im looking a partener in mylife but is not easy to find so many interested so bettet luck all

joma
Sun May 19, 2013
no seas tan patua el tiene 14 y tu 9
moscar
Sun May 19, 2013
Bill your absolutely right it's completely impossible to remove to bolts located on the lower control arm. For anyone trying to do this the only way will be to cut the bolts off. so make sure you buy the bolts and nuts. As for the upper control arms i was able to remove and replace them with an impact wrench, buy new bolts and nuts for these as well bc the old seem to be pretty rusted.i have a good friend that has a shop and was able let me use it along with all his tools so its was a little bit easier for me but cutting the bolts is the most difficult thing by far. after i replaced the upper and lower control arms and bolts my 1997 nissan pathfinder ride exceptional and i haven't noticed the death wobble any more.
Darrell
Tue Mar 12, 2013
Thank All You fine folks !!! My 1996 Pathfinder just atarted doing this & freaked me out ! Nearly had wreck / But got back in controll . Now I know what to do ! FIX IT & SELL IT !!!! I love it when I bought it ! But not worth getting killed in ! OR Killing someone else , From head on crash !!!!!! NO MORE NISSAN FOR ME !!!!!!! After this.
jeff
Mon Apr 30, 2012
I own a 1998 Pathfinder 262,000 miles. i started experiencing the hillbilly rock about a year ago. I quickly identified the problem and went to Pic A Part to pull some bars off of a totaled Pathfinder. OMG I was only able to get the bolts off of one side. But on my vehicle I was able to take both bars off. What I did on the one I didn't replace was pack the bushing with JB Weld. It hasn't rocked on me in the year since i did that.
Sidram
Sat Apr 21, 2012
Buy the parts upper and lower bars with new bushing already pressed. I bought all four bars for 250.00 and changed them myself. I had to pay 2.00 for one bolt a mechanic striped that i was going to pay to do it. 17mm and 19mm wrench with a breaker bar. 257.00 is all i paid with 5 hours of work. Dealership 1200.00 fuqin rip off. Local shop striped one side and said i needed a special socket. If you want this job done right by work and price your are going to have to do it yourself.
ernie
Sun Jul 08, 2012
can you tell me where to find parts you found...i just bought a 98 and its has the same problem...and ill be damned if i going to pay some jackass 1200 to fix it...thanks
Jeanine
Sun Jul 08, 2012
OMG!!! thanks so much for your posting, I'm having the same problem with 98 pathfinder...
Mlex617
Wed Apr 18, 2012
OMG!!! U GUYS ARE AWESOME! PRECIATE ALL THE ADVICE.....BIG UPS!!!
Lee
Fri Mar 30, 2012
Well I have a 2000 Pathfinder 2 WD with 125K miles on it and started to experience this on the freeway about 6 months ago which I never had before. It really seemed noticeable when the freeway or road is taking a left turn. Seems to really start rocking back and forth when there are bumps in the road while the road is turning left. Also notice it was especially bad when you get in the dips that are made from lots of trucks on freeways and road or freeway is turning left. It is very scary as the Pathfinder starts rocking back and forth so much sometimes that it could easily get out of control. Does this on roads too. Mostly going over 45 mph. I replaced the tires, front struts and rear shocks. This helped a tiny bit but now have noticed that it is still there and Bad! The place where I took it to get the struts and shocks has no idea what it is. So should I print this web page out and take it to him? Has this really fixed the problems for everyone? Has this fix not worked for anyone? Let me know. Thanks.
Paul
Sun Mar 25, 2012
I have a 98 nissan pathfinder with 308000 miles. i never had that problem. In fact ive had no problems other than tires,oil change abd normal wear and tear. I am the orginal owner and i beat the hell out of it every time i drive it
Jdow18
Thu Mar 01, 2012
I have 98 Pathfinder. What if you dont get these bushings replaced? I have been dealing with this problem for a while and it hasnt gotten better or worse. What happens if i continue to drive it and never get it replaced?
pastormjh
Thu Dec 08, 2011
I am currently experiencing this problem with my 2002 Qx4 Infinity, and I was told to get an alignment. I have just noticed this rocking over the last 2-3 months. I will get the bushings checked. This information is helpful is gives me a starting place when talking to the mechanics.
Bill
Sat Nov 05, 2011
Ditto what Ray said. '97 Pathfinder, same issue, same repair fixed it. Total cost $650.
Steven
Wed Oct 12, 2011
I have a '96 Pathfinder SE with the same issue. Refused to take it to the dealer, because I don't trust them and they're too expensive. Took it to a local mechanic and he wasn't able to find anything wrong with the upper or lower links. He did notice the steering rack bushing was going bad and thought sloppy steering could be the cause. This did not fix the issue, but did clear up a bad bushing that had been caught at another repair shop. He finally agreed to replace the link arm bushings, but couldn't locate the parts from his distributors. I purchased the parts from 4x4Parts and dropped the truck off this morning. One thing to note is that if you press these in yourself, it's advisable to have the correct tool, otherwise you can end up damaging the bushing while pressing in the sleeve. I've read this online and it's something he also mentioned. He has the special tool, so it shouldn't be an issue. Hopefully this fixes the issue with the loose/swaying Pathfinder.
Ray
Wed Aug 31, 2011
l had the same problem and l replaced the " lower suspension link " l just would like to say that who ever did put this information on this site THANK YOU .
jim
Fri Aug 19, 2011
it does work...just did my friends car for him...but MAKE SURE YOU DON'T TIGHTEN THEM UNTIL YOU HAVE LOWERED THE VEHICLE DOWN.
Gary
Mon Aug 08, 2011
Gary- did the Dormans work? I'm looking at doing the same thing but can not find one response on the internet if they do work.
Gary
Wed May 25, 2011
I HAVE same issue on my 1999 with 230K Miles. YES I know it's high! Anyway after a bunch of OTHER fixes I did. I KNOW its the trailing bars (some call them upper and lower control arms). I ALMOST got the poly bushings, but instead I found aftermarket NEW Trailing ARMS made my DORMAN Part # 905-803 and 905-804 for the (2) REAR Lowers which are the LONG BARS,and 905-802 for the 2 shorter Upper bars. I ONLY bought the LONG BARS (Lower Control Arms) for $114 for BOTH! I am going to see if this fixes it 1st, if not, I will also get the upper ones. I called mfg. and they said these fit, BUT I have not read of 1 person doing this and I am not sure why?? I am not keeping the car for THAT much longer since it has 230K, but I bet this will fix it and be EASY to do as my mechanic friend will do it for me with his impact wrench. I plan to buy new BOLTS. Hope this helps! Take Care, Gary
Related Content
Information
Title: Nissan Pathfinder Wobbles Problem Rocks Side To Side
Description: you will find information oh now to resolve a problem on nissan pathfinder SUV issues with the suspension when the truck wobbles side to side also known as the Death Wobble
Tags: nissan ,pathfinder ,wobbles ,problem ,rocks ,side ,to ,side
Info: This Post Has Been Viewed 0 Times Since
Date: Thu Dec 04, 2008
Author
pathie
Received 34 Replies #2319
Share
Embed:
To embed this topic, just copy the code from the "Embed" box. Once you've copied the code, just paste it into your website or blog to embed it
BBCODE::
BBCODE is use on forums. You can put this code on all your BBCODE enabled forums like PhpBB, vBulletin® and others. Just Copy and Paste this code on your Posts and Replies on your forums