What Do Girls Say They Want From A Guy?
hello ladies, i need your help.

im a good guy looking for a nice girl. but its hard to find a good girl now a days..

so i was wondering if there are any girls here who can tell me what do they like about guys

i mean, what do girls look for in a guy and what do they like about them?


asma
Sun Nov 08, 2009
i like caring and educated guy

xxcvxcv
Mon Dec 08, 2008
dcfvvdfjdslfjdsf
sdfkjasldfjdskf
carson
Mon Dec 08, 2008
he is cute i love that he skates he is nice nice personality i asked him out he said she can't he told my friend he said no because he doesn't want to date he's friends right now
Amy
Mon Dec 08, 2008
i liked him since 4th grade & im in 9th now & i still like him & just everything bout him drives me crazy he is nice to me & he holds me & kisses me i just dnt knoe if he truly likes me
stephy
Mon Dec 08, 2008
he`s nice although im not sure if he is dating someone else.but we did go out twice. he is in my school we have 2 classes together we usually sit next to each other and we like to meet on sats but usualy i have to make the effort.last sat he told me that the girl which hangs with him at school , also a friend of mine was with him and so i decided to ask if he is seeing her in a "laughing about it kind of way" so that it wouldnt seem to obvious and anyway he said that they are only friends (we went out together last sat) but on sun i texted him since we were at the same party and he didnt reply back :s
michell
Mon Dec 08, 2008
i like him becuase he is a geniune nice person. he makes me laugh. we share the same religious views and views on haveing children. i think he is adorable and i like listening and talking to him.
Lisa
Mon Dec 08, 2008
very kind, caring, tall, funny, helpful, friendly. the way he makes me laugh, opens doors for me, carries things for me, flirts with me, smiles with his eyes when he talks to me.
sarah
Mon Dec 08, 2008
he has a really nice personality. he is very good looking. he is fun to be around. he is funny, good looking, always happy, we love to go ding dong ditching together.
Jazmine
Mon Dec 08, 2008
he is sweet, nice, fun, he doesnt treat me like other girls, he might hurt my feelings sometimes but he knows how to bring me back to a great mood, he cares if i am sad but only because he did it, he's mean but not that much.
i dont know.
the fact that he might or might not like me back.
i still believe in love.


Bere
Mon Dec 08, 2008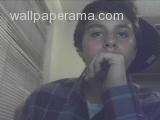 i like that he's nice and he's cute and he's funny and the way he looks at me. my favorite song is a "santeria" by sublime because it reminds me of him. i also like him because he flirts with me and on one of the questions i said i've been knowing him since less than a year and that's not true because i've been knowing him for about 8 years now. i don't know why i like him if he doesn't like me back.
Rishika
Sun Dec 07, 2008
he is really nice, smart, funny, and cute.
junkey
Sun Dec 07, 2008
nice pic its col
melanie
Sun Dec 07, 2008
i love how i can just be me with him. we aren't dating but i've known him a long time. i have given him oral sex and he has "played" with me. i really feel like i could go all the way with him even though i'm nervous about sex. the thing about him that drives me the most crazy is how much i can't resist him. every time i'm around him, i want to throw him on the bed and make him happy.
gwen
Sun Dec 07, 2008
i love him because we totally connect, even though we have never talked. i love everything about him from his personality to his smell to his hair. but i have to say my favorite is the way he smells, my friends say he smells like b.o, but to me he smells like the world's most expensive and rare cologne,...no...better. my favorite song is his too, before i forget by slipknot. i met him waaay back in kindergarten and we were like a couple, you know, like sharing animal crackers and stuff, anyways, he moved away a few years later and i cried myself to sleep for 2 days.seriously. he was gone forever...that is...until the first day of school in 3d period. i saw him standing there staring at me and i couldn't believe my eyes. he is really shy, so we havent talked yet. but i always find him randomly staring at me and following me to classes. my friends and his friends always come up to me and tell me that he is seriously like, in love with me, but i'm not sure. please help.
mellian
Sun Dec 07, 2008
he's really funny and has the most prettiest eyes............
Related Content
Information
Title: What Do Girls Say They Want From A Guy?
Description: What Do Girls Say They Want From A Guy?
Tags: what ,do ,girls ,say ,they ,want ,from ,a ,guy
Info: This Post Has Been Viewed 0 Times Since
Date: Sat Dec 06, 2008
Author
thomas
Received 50 Replies #2326
Share
Embed:
To embed this topic, just copy the code from the "Embed" box. Once you've copied the code, just paste it into your website or blog to embed it
BBCODE::
BBCODE is use on forums. You can put this code on all your BBCODE enabled forums like PhpBB, vBulletin® and others. Just Copy and Paste this code on your Posts and Replies on your forums