Stopping Your Computer Might Be At Risk Balloon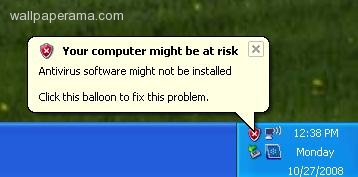 how many times does that annoying balloon popup come up on your windows xp desktop.
i told you already, i dont want automatic updates.. let me decide when to update.!!!! geez
anyway, if you are fraustrated like i am, how can you stop and get rid of this balloon pupup once and for all?
mine says:
Your computer might be at risk
Antivirus software might not be installed
Click this ballon to fix the problem
i will show you how
just go to your start button, then go to control panel
once in control panel, click on Security Center
there, in Security Center, Click on firewall or antivirus and you can disable
hope this helps
Barry
Thu Feb 17, 2011
Brilliant and simple, thanks a lot.
benmat
Thu Aug 05, 2010
Thanks Pipio, your suggestion helped since I also have win xp
Pipio
Fri Sep 04, 2009
doesn't help much at first. i'm using win xp after selecting 'security center" from "control panel" you have to click on the left part on "change the way security center alerts me" and then unselect the type of alert you don't like to get anymore (in my case all three types...)
Daniel
Thu Jul 23, 2009
i'd like to just trigger the registry in order to have more days before it pops up the alert... any clue where in the registry for me to change the settings to 5 or 7 days instead of +/- 2 days. i am using mcafee and most of the times it is ok, but if i forget to update it during the week-end, unless i run the datfiles twice with a reboot, this balloon shows up.

p.s./ for removing the thing alltogether i was already aware or this, but it would work in deed.

thanks,

daniel
Susan
Thu May 28, 2009
thank you so much..
charles
Thu Dec 04, 2008
thanks, i wanted to know how to get rid of your computer might be at risk balloon i was able to do it
Related Content
Information
Title: Stopping Your Computer Might Be At Risk Balloon
Description: Stopping Your Computer Might Be At Risk Balloon
Tags: stopping ,your ,computer ,might ,be ,at ,risk ,balloon
Info: This Post Has Been Viewed 0 Times Since
Date: Tue Oct 28, 2008
Author
hostman
Received 6 Replies #613
Share
Embed:
To embed this topic, just copy the code from the "Embed" box. Once you've copied the code, just paste it into your website or blog to embed it
BBCODE::
BBCODE is use on forums. You can put this code on all your BBCODE enabled forums like PhpBB, vBulletin® and others. Just Copy and Paste this code on your Posts and Replies on your forums