Selena Gomez And Taylor Lautner Kissing On The Lips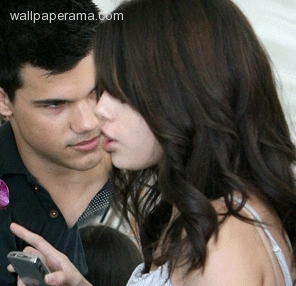 hay, have you heard that selena gomes and teylor lautner are going out. they are boyfriend and girlfriend, but i thot she was going out with nick jonas.
does any one know what the latest news of selena gomez
Rheea
Fri Mar 29, 2013
Taylor laughtner and selena gome should be together but i dont want to hurt any one howeveri am kin of jelous his cute but ilove selena gomez my fav singe he is.
mikayleigh
Sat Jan 15, 2011
Dear Selena i am 7 and my birthday is June 2nd 2003 and my favourite song about you is a year without rain.ya now i come from South Africa were do you come from?
Dark
Sun Jan 09, 2011
You guys fail, the pic's obviously Photoshopped.
mena
Tue Dec 21, 2010
selena gomez love the three of them.
Twi/Sel
Sun Dec 12, 2010
#1 sel &nick have been done forever and she dated JB and now is dating TL
samantha
Tue Nov 02, 2010
I think that if selena and taylor lautner are really going out they make a very good couple:)
eva
Fri Oct 29, 2010
o my god that is so sexty please rigt back to me and sometime we should get together and play on my bouncy house
Bella
Sun Oct 17, 2010
Hey,Yes i did...I dont know , I guess she left him
selena
Sun Oct 17, 2010
I love A Year Without Rain.Im going to your concert next month.Id do anything to meet you and we have the same name.
Kaitlyn
Wed Aug 04, 2010
this is just rediculous. they're not even kissing, it's 2 different pictures pushed togeher. they weren't even going out. EVER. jeeez... they were just friends for pete sakes!!
chante
Tue Jul 27, 2010
you guys make a really cute couple, did you break up?
Emma
Thu Jul 15, 2010
taylor is hot
I want to kiss him
He shouldn't date selna gomez
ash
Thu Jul 08, 2010
i hate selena but taylor is HOTER but nick is so CUTE this gurl cnt make up her mind GO TEAM JACOB WOWWWWWWWW!!!!!!!!!!!!!!! love, ash =) =p =)
hannah
Thu Jul 08, 2010
she was going out with nick jonas but thats between her nick and taylor PS:i can pull taylor any day me an my friend
Related Content
Information
Title: Selena Gomez And Taylor Lautner Kissing On The Lips
Description: Selena Gomez And Taylor Lautner Kissing On The Lips
Tags: selena ,gomez ,and ,taylor ,lautner ,kissing ,on ,the ,lips
Info: This Post Has Been Viewed 0 Times Since
Date: Sun Jun 21, 2009
Author
washa
Received 35 Replies #1959
Share
Embed:
To embed this topic, just copy the code from the "Embed" box. Once you've copied the code, just paste it into your website or blog to embed it
BBCODE::
BBCODE is use on forums. You can put this code on all your BBCODE enabled forums like PhpBB, vBulletin® and others. Just Copy and Paste this code on your Posts and Replies on your forums