Phoebe Thomas As Holby City Nurse Maria Kendall Picture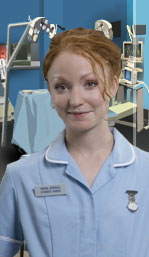 I watch BBC1's Holby City I luv Phoebe Thomas who plays nurse Maria Kendall, I think she's cute. Well Redhead Women are my type.
douglas
Fri May 21, 2010
What a shame she has left she is a very good actress and a beauty as well.
Jason
Wed Apr 07, 2010
Sorry to hear that Phoebe is leaving Holby City. I hope that she returns at some stage. If ever she wants someone to accompany her to a major event, then I'd like to volunteer for that job. Good Luck Phoebe.
jay
Tue Mar 30, 2010
Phoebe has gorgeous hair and a totally heart stopping smile. I'm a total sucker for a redhead and they rule my world. I'm well known by my friends to be a redhead lover and have had several redhead ex's...
And if Phoebe ever wanted a date, I'm more than happy to take her out for a meal.. ;-)
Justina Hallinan is another gorgeous redhead.
Jonathan
Sun Nov 22, 2009
i love phoebe as maria kendall and she was great in lady godiva. i keep trying for an autograph but no response so far.
Petula
Thu Nov 12, 2009
so glad pheobe's character has recovered in holby. was so worried when she got knocked down. the character is so nice and represents the great nurses working in our hospitals. hope she stays in for a lot longer and eventually ends up as a sister.
eastway
Mon Dec 29, 2008
good luck jodie for went her his not her best this were into just were very been good time eastway for just were not looking helps jodie got road for the her just know were looking her for were this been been good jodie know got not eastway back monday 5th january 2009.
lots of love jodie

richard
Sun Nov 02, 2008
i would love to help phoebe out of her nurses uniform anytime please phoebe babe
Jack
Tue May 27, 2008
i watch holby city just cos she's in it. i think she's gorgeous and i do love redheaded women too! you don't know where i cn get her phoe number do you? ;-o
sam
Mon Mar 17, 2008
its nice

Related Content
Information
Title: Phoebe Thomas As Holby City Nurse Maria Kendall Picture
Description: Phoebe Thomas As Holby City Nurse Maria Kendall Picture
Tags: Phoebe Thomas
Info: This Post Has Been Viewed 0 Times Since
Date: Fri Nov 16, 2007
Author
Nigel339
Received 10 Replies #3306
Share
Embed:
To embed this topic, just copy the code from the "Embed" box. Once you've copied the code, just paste it into your website or blog to embed it
BBCODE::
BBCODE is use on forums. You can put this code on all your BBCODE enabled forums like PhpBB, vBulletin® and others. Just Copy and Paste this code on your Posts and Replies on your forums